Hug a hoodie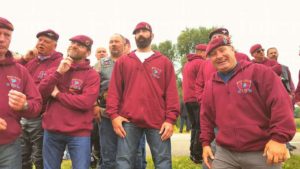 We did it !!  We managed to turn ourselves from a bunch of old bikers into the Airborne Forces Riders.
Last year, at Arnhem, our brothers in arms the "Red Beret Riders" (the Dutch airborne veterans on bikes) turned up to ride with us to Ginkel heath for the day's parachuting.  They were all wearing their hoodies under their riding jackets and when we arrived they looked incredible.  Just like smart, armed forces veterans should look…mean but cool.
It was time for Titch and I to get our heads together.  After a year of "behind the scenes" work we found ourselves back at the campsite, waiting for the Red Beret Riders to join us.  But, this time, we had our own kit!
As I told Arend, the leader of the RBR, "imitation really is the sincerest form of flattery".
Thank you Red Beret Riders for leading the way.  We were proud to ride with you.
See you next year