RTTW 2021 – 2nd October 2021
We shall remember them !!
We have all lost comrades in the various conflicts since the end of the Second World War and we shall never forget them.
The Airborne Forces Riders, joining the other 7000 bikers on the Ride to the Wall, is now an established annual event.  It allows us to take one day out of our busy lives to STOP, remember and respect.
The ride is huge and massively enjoyable and the meeting up with old mukkas, at the National Arboretum, is awesome.  There is a non-denominational service, very short, when we observe the Last Post, observe silence and remember.  It is a very solemn, reflective and sobering moment.  We remember that it could have been our name on the Wall, our live that was sacrificed, our family that was grieving.
What is the "Ride to the Wall"?
The Ride To The Wall is a unique motorcycling fundraising ride with a dedicated service of remembrance that provides an opportunity for all motorcyclists to ride as an organised group to the National Memorial Arboretum in Staffordshire to pay their respects and recognise the sacrifice made by the 16,000+ service men and women whose names are engraved on The Wall of the Armed Forces Memorial.
What is the Wall?
The Armed Forces Memorial (The Wall) is a 43 metre diameter stone structure with two curved walls and two straight walls constructed of 200,000 bricks faced with Portland stone panels. The panels contain the names of those honoured by the Memorial providing recognition and thanks for those who have given their lives in the service of the country since the end of the Second World War.More information
If you want more information and the background to the event then visit www.rttw.org
"We will remember them!"
Ride to the Wall 2019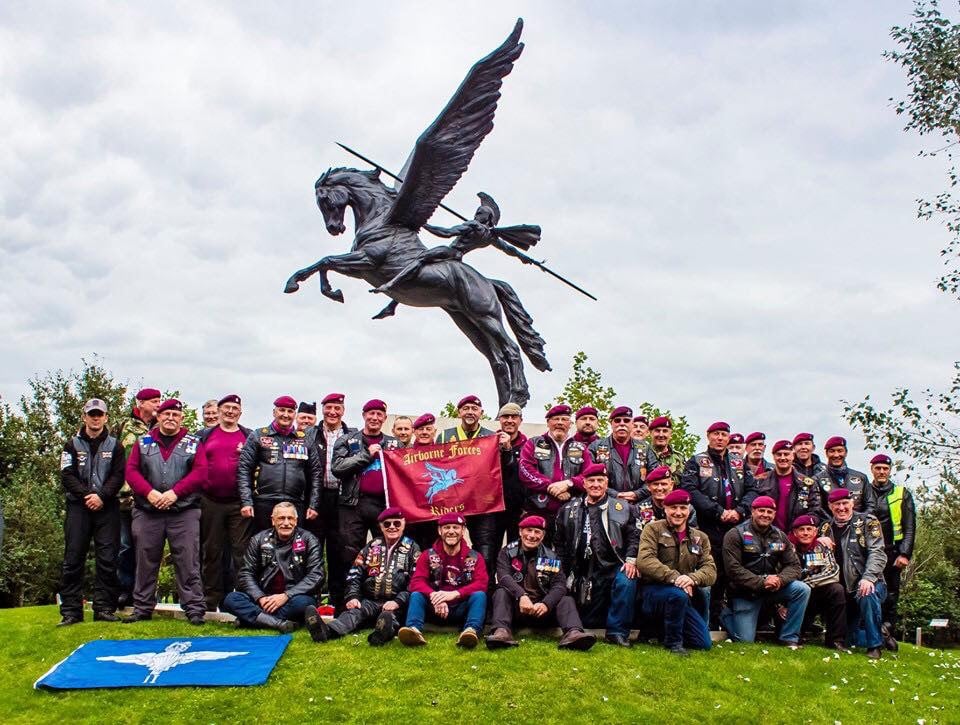 Our annual photo at the Airborne Memorial
Previous Years
[ngg src="galleries" ids="1″ exclusions="1,2,3,4,5,6,7,8,9″ display="basic_thumbnail"]