I am delighted to inform you that Lieutenant General Sir John Gordon Lorimer, KCB, DSO,MBE has agreed to become the Patron of the Airborne Forces Riders.  General Sir John is well known, and much loved and respected, by those that know him.  The Riders and Supporters will, once they meet him, understand why.  He is a soldier's soldier, as we used to say in the old days.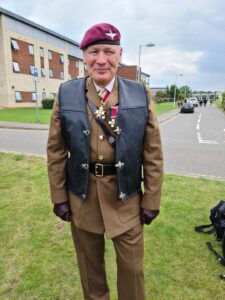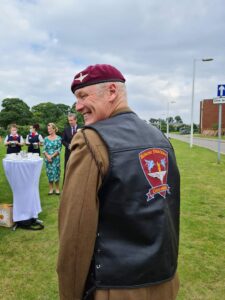 Vic Thorn was the prime mover in obtaining and presenting the General with his "cut" at the Presentation of the Colours held on 13th July 2021 at Colchester.  You can see, by the grin on his face, that General John (as we now call him) was delighted to receive it.  Vic had asked Mike Turnpenny (know on Facebook as Ziggy Milemuncher) to produce a special version of the AFR backpatch.  He made a fabulous job of it as you can see: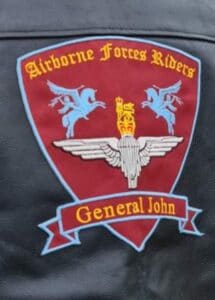 General Lorimer enlisted as a "Tom" (They call them Joey's now, God knows why), either way he joined as a private soldier in 1981.  Didn't take him long though, he was commissioned Lieutenant in the Parachute Regiment in December the following year!  General John went on to command 3 Para from 2000 to 2003.  From then on his career went in only one direction, commanding a mechanised brigade in Iraq before moving on to the General Staff.
When you meet him you will be surprised.  Don't expect the stiff colonel blimp type of "Staff Officer"…that's not him.  He comes across as warm and self-effacing and has been, and still is, an outstanding Colonel Commandant of the Parachute Regiment.  He is also the President of the Army Rugby Union.
He is currently a Lieutenant General and I would remind you (I know this because I passed my Army Certificate of Education Class 1 (…being a numpty at school) that this is HIGHER than a mere Major General.  One of the quirks of our military.  I'm sure it is only to confuse our colonial cousins in the good old US of A !!
General Lorimer once was a biker and intends to start riding again once he finishes his current role.  The Government however, never ones to let a good man go, have appointed him as Lieutenant Governor of the Isle of Man !!
Yes, I know, Paul and I are already putting the feelers out for AFR Outing 2022.
Thank you General John for honouring us by becoming our Patron.