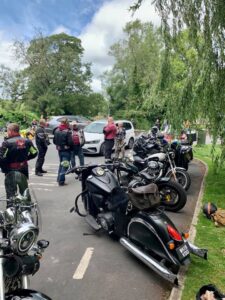 Jack Hawkins organised the Cotswolds Caper Run on Sunday 5th July. Twenty riders turned up for the run and, following socially-distanced greetings (difficult to give an airborne hug from a distance), set off in two groups of ten.
The Cotswolds is a beautiful part of the country and the ride was superb. At the lunch break at Bibury we discovered an ice cream van. This led the "Born to be wild" paratrooper veterans to rush for the queue for a lovely 99.
The run ended with the lads and lasses paying homage to the late Winston Churchill by visiting his grave.
Thankfully the weather held and a fabulous day was had by all.
Great job Jack !!