IF VIEWING OUTLINE ON PHONE – TURN TO LANDSCAPE TO SEE FULL TABLE
The Riders will be riding to the locations of the graves and memorials of the fallen in the Falklands War that are located in the UK. They will pay their respects at each location and would love other Airborne comrades to join them.
The outline route for this year's Ride of Respect is listed below. As in previous years the riders will be undertaking this mammoth ride at their own expense. A fund raising page has been set up so that we can all "participate" in the ride by making a contribution to the costs. All donations will be gratefully received and faithfully applied: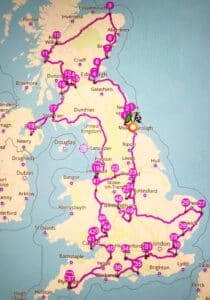 This is the FINAL version of the programme. This is the one to use.
Airborne Forces Riders & SAMA82
Falklands Ride of Respect 2021
FINAL Programme
Day 1 – Saturday 31 July 2021
0910
Kitswell Road,
Lanchester
DH7 0JQ
Pte Stewart Laing 3 Para
1030
Hollywood Avenue,
Gosforth
NE35BT
Pte Philip West
3 Para
1120
Whitley Bay,
Hesleyside Road
NE25 9HB
Memorial
Capt Christopher Dent
2 Para
1530
Mortonhall Cemetery,
Howdenhall Rd,
Edinburgh,
EH16 6TX
DSgt Daniel Wight
2 Scots Gds
1645
Eastern Cemetery,
Drum Terrace,
Edinburgh
EH75NB
Cpl Scott Wilson
9 Para Sqn RE
Includes the re-dedication of the headstone organised by Airborne Engineers Association (Scotland)
Day 2 – Sunday 01 August 2021
1005
Kennoway Cemetery,
Langside Avenue,
Kennoway, Fife,
KY8 5LN
Capt David Wood
2 Para
1200
Arbroath,
Western Cemetery,
DD11 3RA
Mne Paul Callan RM 45 Cdo
Cpl Peter Fitton RM 45 Cdo
Cpl Ian Spencer RM 45 Cdo
Cpl Laurence Watts RM 42 Cdo
1500
Laurencekirk Cemetery,
Cairn Gardens,
Laurencekirk,
AB30 1HF
LSgt Clark Mitchell
2 Scots Gds
1700
Macduff
Myrus Cemetery,
AB44 1PQ
LCpl Peter McKay RM 45 Cdo
Day 3 – Monday 02 August 2021
1400
Spean Bridge Commando Memorial
PH34 4EG
The Commando Memorial
1645
Penny Fuir Cemetery,
Oban,
PA34 5TX
Mne Gordon MacPherson RM 45 Cdo
Day 4 – Tuesday 03 August 2021
1215
North Dalnotter Cemetery, Mountblow Road, Clydebank,
G814SL
Sgt John Simeon
2 Scots Gds
1315
Arklestone Road,
Paisley
PA34JA
LCpl James (Doc) Murdoch 3 Para
1415
Cardonald Cemetery, Mosspark Blvd,
Glasgow,
G521SB
Gdsm Archibald Stirling
2 Scots Gds
1530
Sandymount Cemetery,
Glasgow
G32 0HW
Gdsm Derek James Denholm
2 Scots Gds
1645
Wellhall Cemetery,
Hamilton,
ML3 9BY
Cpl David Hardman MID
2 Para
1830
Knadgerhill Cemetery, Irvine,
KA12 0YE
Gdsm James Boyle Curran Reynolds DCM 2 Scots Gds
Gdsm David Malcolmson 2 Scots Gds
Day 5 – Wednesday 04 August 2021
1445
Blaris Cemetery,
Lisburn, Co. Antrim,
BT27 4RL
LCpl Tony Cork 2 Para
Service to be led by Rev Andrew Rawding
(ex RM)
1615
Palace Barracks, Belfast
BT18 9RA
Palace Barracks Memorial Garden
By prior arrangement only
Day 6 – Thursday 05 August 2021
0930
St Margarets Church
Bodelwyddan
Rhyl Denbighshire, LL185TE
LCpl Anthony Burke 1 Welsh Guards
1115
Welsh Guards Memorial
Wrexham Town Hall
LL11 1ZA
The Welsh Guards Memorial
1300
Rake Lane, Wallasey CH455DE
Cpl Stewart McLaughlin
3 Para
1430
Kirkdale Cemetery, Longmoor Lane, Aintree L9 9EN
Gdsm Ronald Tanbini
2 Scots Gds
1630
Southern Cemetary, Sect Q, Grave 214
Barlow Road, Chorlton M217GL
Pte Anthony Greenwood
3 Para
1745
Stockport Cemetery, Grave 76, Buxton Rd, Stockport,
SK2 6LS
Pte Mark Fletcher MID
2 Para
Day 7 – Friday 06 August 2021
1415
Eckington War Memorial, S21 4BH
LCpl John Pashley
9 Para Sqn RE
MEM(M) Stephen Tonkin
HMS Coventry
1630
St Mary's Cemetery, Boulton Lane, Alvaston, Derby,
DE24 0GE
Mne Michael (Blue) John Nowak RM
45 Cdo
1745
St Marys Church, Marston on Dove, Derbyshire, DE65 5GB
Memorial
Spr Wayne Tarbard
4 Tp 9 Para Sqn RE
Day 8 – Saturday 07 August 2021
1000
National Arboretum
Croxall Road
Burton on Trent
DE13 7AR
The Falklands Memorial
1400
St Peters Church War Memorial
2 St Peters Close, Walsall WS28EA
Memorial
Pte Mark Dodsworth 3 Para
1615
All Saints Churchyard, Sect A, Row 74, Grave No 1
Church Street, Brixworth NN6 9DF
Pte Gerald Bull
3 Para
Day 9 – Sunday 08 August 2021
1000
Route 11 (A11 Northbound Attleborough)
RV with Norfolk Harley Davidson Club
1115
Section 18, (Rear of church) St Michaels Church, Church lane, Oulton Broad,
NR32 3JP
Pte Dave Parr 2 Para
1430
All Saints Church, Basildon, Essex,
SS16 4PX
Pte Stephen Dixon 2 Para
1600
Holy Trinity Church, 139 Twydall Lane, Twydall, Gillingham, Kent,
ME8 6JU
Memorial
Cpl Andy McIllveney
4 Tp 9 Para Sqn RE
Day 10 – Monday 09 August 2021
1000
Durrington Cemetery, Worthing
BN14 0AB
LCpl Christopher Lovett MID
3 Para
1130
The 'Yomper' RM Memorial – Southsea
1200
Falklands Sea Forces Memorial,
18 Gun Battery,
Old Portsmouth,
PO1 2JE
1230
RV with F8 LCT
Camber Quay, Portsmouth, PO1 2JJ
1330
UStream Studio / JDTV
Interview – Jim Davidson / JDTV
1600
Bordon Military Cemetery
2 Bolley Avenue, GU35 9HQ
Cfn Alex Shaw REME
3 Para
Day 11 – Tuesday 10 August 2021
0900
Aldershot Military Cemetery,
GU11 2DD
The Airborne Forces Memorial
Lt Jim Barry RSigs
CSgt Gordon Findlay 2 Para
Cpl Steve Prior 2 Para
Cpl Paul Sullivan 2 Para
LCpl Gary Bingley MM 2 Para
LCpl Nigel Smith 2 Para
Pte Steve Illingsworth DCM 2 Para
Pte Tommy Mechan 2 Para
LCpl Badharparsad Limbu 1/7 Gurkha Rifles
Pte Neil Grose 3 Para
Pte Jason Burt 3 Para
Pte Jonathon Crow 3 Para
Pte Pete Hedicker 3 Para
Sgt Ian McKay VC 3 Para
LCpl David Scott 3 Para
Pte Ian Scrivens 3 Para
Pte Richard Absolon 3 Para
Cpl Stephen Hope 3 Para
Pte Craig Jones 3 Para
1030
Brookwood Military Cemetery, GU24 0JB, Military section, Row F, 10
LCpl Christopher Thomas
1 WG
1130
St Peter's Churchyard, Frimley Green Rd,
GU16 7AQ
Section 23 Plot Q1
LCpl Simon Cockton AAC
1300
Pangbourne College
Pangbourne Hill
Reading
RG8 8LA
The Falklands Memorial Chapel
1500
Tidworth Military Cemetery,
SP9 7JR
Maj Roger Nutbeem RAMC
LCpl Pete Higgs 3 Para
Day 12 – Wednesday 11 August 2021
1030
St Michaels, Church, Hamworthy,
Poole,
BH15 4HR
Sgt Ian (Kiwi) Nicholas Hunt RM SBS
1130
St Nicholas Church, Winterbourne Kingstone, DT11 9QE
Memorial
LC Adrian K Wellstead
HMS Sheffield
1315
Fleet Air Arm Museum
RNAS Yeovilton
Ilchester
Somerset
BA22 8HT
Falklands Memorial and Exhibits – Hangar 4
1700
The Maltings, Church Street
Exeter,
EX2 5EJ
Courtesy Call: Mr Neville Bennett
By invitation only
Day 13 – Thursday 12 August 2021
0915
Drake Cemetery
Plymouth
PL7 1UQ
Sgt Roger Enefer RM
1030
Weston Mill Cemetery
Plymouth
PL2 2EP
Cpl Mick Melia
59 Cdo Sqn RE
1145
Buckland Monochorum Cemetery, Yelverton
Devon,
PL20 7NA
Cpl Jeremy Smith RM
42 Cdo
1630
Church St, Beckington, Frome
BA11 6TG
Row D, Grave No 4
Cpl Keith McCarthy
3 Para
Day 14 – Friday 13 August 2021
1200
Cardiff,
Falklands Memorial,
CF103ND
The Welsh National Falklands Memorial
1330
The Patriot
Crumlin
Courtesy Call
1530
Yew Tree Brake Cemetery, Cinderford, Gloucestershire,
GL14 3HU.
Sect J, Row J, Grave J.
Spr Christopher Alan Jones
59 Cdo Sqn RE
1645
Walford Road Cemetery, Tudorville,
Ross on Wye
HR95PZ
Pte Timothy Jenkins
3 Para
Day 15 – Saturday 14 August 2021
1100
St Martins Church,
Ross Road,
Hereford,
HR2 7RJ
The SAS Memorial
1400
RV – Shell Station, Nunnery Park Services Worcester, WR4 0SX
Departing 1500 Hrs
1600 – Arrive – Coventry & Northants Parachute Regiment Association Summer Party
Old Leamingtonians RFC
Bericote Road, Blackdown,
Royal Leamington Spa CV32 6QP
Day 16 – Sunday 15 August 2021
1300
South Yorkshire Air Museum
DN4 7NW
Falklands Memorial and Exhibits
1630
All Saints Church,
Hutton Rudby,