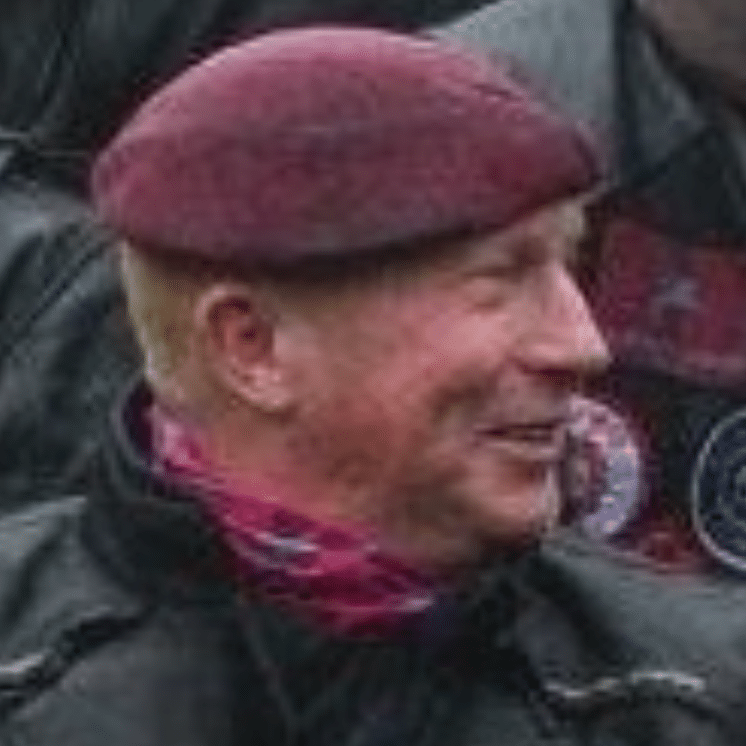 By Paul Moore, President AFR
The Airborne Forces Riders – 2019
Early Season Ride Out
It is fair to say that 2019 was a busy year for the Airborne Forces Riders (AFR).  We always plan an early-season ride out to blow the winter cobwebs away and in March the northern cohort had a ride planned to the highest pub in England at Tan Hill in North Yorkshire.  The pub is extremely remote, dates from the 17th century and stands at 1732 feet above sea level, and is very popular with walkers, bikers and those who enjoy uncluttered views of the stars.  The pub also has plenty of accommodation, real ale and live bands on every weekend which is more our scene !   Two days before our ride the snow came down and we decided that riding bikes in 18 inches of snow was not for us. So that was our early ride that never happened ! Maybe in 2020.
Cleethorpes PRA
In April we made our annual pilgrimage to Cleethorpes PRA.  This not only forms our main early season planning meeting but is also a good way for AFR from all over the country to meet up, have a few beers and raise a few bob for the PRA.  Around 25 riders made their way to the collective RV at Gainsborough in Lincolnshire – actually it's a McDonalds right next to Tesco for fuel – where we were met by Steve Gabbitas (9 Sqn) and we rode the last 30 miles to Cleethorpes together, and the first order of the day was a group photo in front of the memorial on the seafront which is right in front of the PRA Club.  We were extremely well looked after by Ron Webster (2 Para), Steve (9 Sqn) and Don McKay (1 Para) and a good time was had by all.  This was tinged with some sadness though as Ron had recently lost his lovely wife Jean, the service only being the day before.  It is testament to the man that he carried on when others might not have, and I hope that some part of his strength was through the love and support of his Airborne Brothers.
SAMA Ride 2019
This was reported separately in the winter 2019 issue of the Pegasus journal but in essence it was a journey of over 1400 miles around the UK to visit every grave of the 23 men of 3 Para who fell in the Falklands in 1982.  Four of us made the ride – Paul Moore (9 Sqn), Charlie McColgan (9 Sqn), Tony McKie (1 Para) and Paul Durnion (4 Para) and overall it was for three reasons;  To demonstrate that they are not forgotten, to raise awareness of where they lie, and to raise funds for the South Atlantic Medal Association.  Our target was to raise £1000 initially, however I am pleased to report that through the generosity of our Airborne Brethren, the wider service Community and the public who support us we raised £3856.  The ride ended at Aldershot Military cemetery right in time where we were met by many of our own families and friends as well as those of the fallen.   We would like to record our thanks to the multitude of people who helped us along the way while organising the ride.  We intend to do a similar ride in 2020 where we will visit the graves of 2 Para but also encompass the graves of many other units.  
Airborne Statue Unveiling
Having just completed a 1400 mile ride the day before you might be forgiven to think that we would want a day off !  Not for us though as there was a very important event to attend.  However, this nearly did not happen for the Airborne Riders as some jobsworth in the local Council got windy about the number of bikes attending, insurance, traffic disruption etc.  It was through some very good negotiation by the organisers that we were allowed to ride at all, although I'm sure that 78 Airborne Bikers were not going to be put off anyway !  As we were having a re-organisation of our structure we had organised ourselves with the outgoing Presidents (Titch Cornish and Phil Hannah) as the front pair, followed by the incoming Presidents (Paul Moore and Charlie McColgan) and behind them the remaining 70 plus Riders in ranks of three.  It was a cracking hot day and the pace was slow as we followed the marchers through Aldershot so there were some concerns for the air-cooled bikes overheating.  The only problem I detected was that I nearly fell off right in front of General Lorimer !  Titch braked in front of me just as I was distracted, my foot slipped on the tarmac and I nearly dropped the bike !  All was well but it could have been a real show-stopper if it had gone over as 700 Lbs of Goldwing is not easy to pick up and it would have cost me a lot in beer !  It must be said that the organisers did a cracking job of the day and it was an honour for the Airborne Forces Riders to take part.
Arnhem 75th
Arnhem is always the highlight of our year and of course the 75th was especially important for a number of reasons.  On any typical year there are around 35-50 AFR members and friends attending Arnhem, however in 2019 we had over 150 Riders including friends from Poland, Germany, Netherlands and other places.  This caused some immediate problems just through sheer numbers and it was quickly apparent that due to the expected security measures we would not be able to around the Arnhem area as freely as we normally would.
To alleviate this we allocated various riders to specific groups and locations, gave specific move times, routes in and out and wait areas.  All in all, we had to plan it down to the ninth degree but we had a 'bit of previous' in that respect.  We also liaised with the Dutch Traffic Police who got a full copy of our road plan quite early in the planning stages.  It turns out that this in turn helped them plan some of their high security moves so they were very happy with that, and the Chief of Traffic said to me ' You gave us your plan, you stuck to it so I had no worries about your groups.  It was professional.  Please lets do the same next year.'  
This kind of professional level relationship with the Dutch Police is important in a country where bikers have a bit of a bad image and it is something that we can do our bit to change.  On some days we had five separate groups of Riders going to different locations.  I went to Driel on Saturday and due to the security bubble around Prince Charles, sat in a field near to the Engineer memorial enjoying the sunshine and watching the aircraft running in to Ginkel Heath a few miles away.  I was asked to give a small speech on veterans at the Engineer memorial and this was well received by the new Veterans Minister Mr Johny Mercer MP who is himself a veteran.  Talking to him about veterans issues has convinced me that we are in good hands although it will take time to change things for the better.  
The Arnhem trip ended with the Great Arnhem Beard Off.  At Arnhem in 2018 Scotty Lovegrove (9 Sqn) had the 'great idea' that we should all grow our beards for a year until Arnhem 2019 and then auction them off to be shaved for charity.  This was fine for Scotty as he can grow a Desperate Dan beard in no time at all, however another four foolhardy (drunk) souls thought it was a good idea so we accepted the challenge.  It was a long year but entering into the spirit of it I also grew my hair which made the whole thing very popular with my granddaughter.  On the night of the 'Beard-Off' the beer flowed, songs were sung and the five of us were hauled onto the stage where the auction took place.  Our compere for the evening was Vic Thorn who did a great job of running the auction, keeping the thing going and most importantly, getting 150 drunk paratroopers and friends to put their hands in their pockets to donate.  It did help that the charity we had chosen was the Market Garden Foundation.  This is an Arnhem based charity who since the end of the war have been helping our veterans return to Arnhem.  At the end of the evening Paul 'Billy' White had won the best beard award (because it was rubbish and we felt sorry for him), and including online donations we had raised over £3000 for the Market Garden Foundation – a very deserving cause.  I'm pleased to say that my beard went for £260 and the ponytail for £340 much to the dismay of my granddaughter who now has it as a keepsake.
Arnhem 2020 will be back to being a smaller event and the AFR will most likely return to a manageable group size.  We have already been contacted by our Dutch counterparts 'The Red Beret Riders' who want to meet up with us to ride out, have a BBQ and a beer or two.  I think Arnhem 2020 will be good.
Ride To The Wall
For most veteran bikers in the UK the annual Ride To The wall is the culmination of the biking year.  Groups of like-minded folk on bikes from all over the UK converge on the National Memorial Arboreatum to pay their respects to the fallen in an informal collective act of Remembrance.  The Airborne Forces Riders always meet up following the Service at 1500 hrs at the Airborne Memorial for our own act of Remembrance and of course the collective photo by the statue.
How to Join
To join the Airborne Forces Riders visit our webpage:  http://www.airborneforcesriders.org
Go to the 'Join Us' page and enter your details.  We welcome applications from Serving or Retired members of Airborne Forces, no matter what capbadge so long as you have earned the right to wear British Airborne Forces wings and the maroon beret.