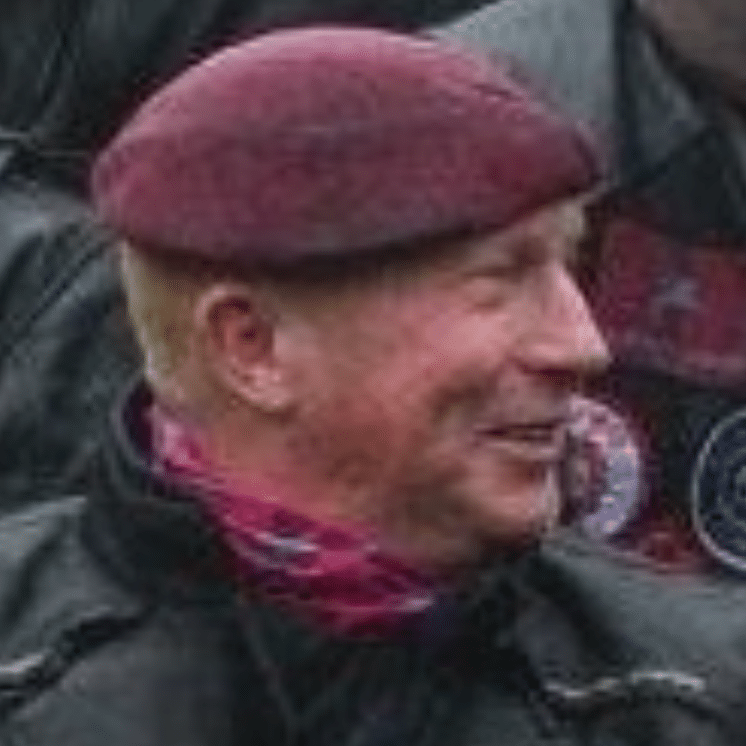 By Paul Moore, President AFR
The Airborne Forces Riders – 2022
Looking back, I think it's fair to say that for most of us 2022 was a very busy year for one reason or another! Part of this was due to everyone wanting to get out on their bikes more after the period of Covid and all that came with it, but also there was the Falklands 40th Anniversary commemorations, the Falklands Ride of Respect and our biggest attendance at Arnhem for a number of years.
Of course, other events marked the year as well. We lost HM The Queen. For most of us the only Monarch we had ever known or served under, and I have no doubt that you all felt a great sense  of loss at her passing. HM King Charles will be crowned in early May 2023 and this too will be a momentous event.  I, for one, am really looking forward to it.  I'm sure that you are all aware that the King is also Patron of the Parachute Regiment and Airborne Forces Association,.  Whether he
will remain so after the Coronation remains to be seen.  However, for now at least, we have an Airborne King. This has to be good for Airborne Forces in general and probably by default, for us as a group too.
I missed our spring gathering in Cleethorpes as I was so busy with the Falklands 40 stuff which started in April.  I know a few dedicated souls made the trip to Cleethorpes PRA Club and availed themselves of their usual excellent hospitality.  We will be visiting again on the weekend of 29th April 2023, so stand-by Cleethorpes!  The highlight of the first half of the year for me was organising the Falklands Ride of Respect.
The 2022 ride was conducted in May in order to lead into the main Falklands 40th Anniversary  Commemorations in June.  The weekend before the ride started, the team of four were lucky enough to be invited to attend the Army v Navy drinking competition, the one that is heavily  disguised as a game of rugby at Twickenham. The real reason was to collect for SAMA, but we were treated to pitch-side seats after we had done our bucket-rattling duties and watched a very exciting, close game by two excellent teams.  We got home on Sunday feeling 'delicate' and, the next day we started the 2600 mile Falklands Ride of Respect!
I won't bore you with the day to day adventures, as they are covered elsewhere, suffice to say the ride was again extremely successful.  We visited all of the Falkland graves in the UK, many memorials as well, met lots of relatives of the fallen, made new friends and met many pals along the way.  We raised just about £14000 for SAMA in 2022 which means that by a quick calculation, in the last four years, the Falklands Ride of Respect has donated around £35,000 to the South Atlantic Medal Association.  I am told that we are currently the single largest donor to the  Association through our efforts on the ride.  Of course, while the 'Fab Four' of Charlie, Phill, Tony and myself did the organising and, of course, the whole ride.  Additionally, a lot of work and fund-raising was done by the  members of the Airborne Forces Riders throughout the year, all over the country.  We thank you for that and for meeting and riding with us along the way.  I'm sure some of you are thinking that it must be a load of fun – and it is! But I'm sure you are all aware that it is a huge effort to be on the road for two weeks, away from family or even taking time off work, and it is also expensive.
For many of those reasons the 2023 Falklands Ride of Respect will be conducted in a Regional sense and all on one weekend – the 10 & 11 June 2023. Please join the rides in your area and support our fundraising effort for SAMA as well.
Another highlight of last year was our first ever 'Summer gathering' which was held at
Hathersage, in the Peak District.  We hired the whole outdoor education centre for the event.  The kiddy-sized bunk beds were a bit of a challenge for some of the bigger blokes.  However, the location was perfect for riding around the Peaks and it didn't rain that much either.  I think we were all glad to be doing something a little bit different, in a nice area, with time to enjoy the company and banter.  It was also a nice to see some of the 'Southern Monkeys' riding north of the Watford gap for a change.  So, to further convince you all that the world doesn't end north of the M42, our AFR Summer Ride out for 2023, will be in the Isle of Man.  We shall pop in and say hello to our Patron General Sir John Lorimer.  Details are on the Facebook page, so lets have a good turn out and a nice few days riding the TT circuit.
I took in a bit of holiday last year after all that excitement and went to Kos and Mexico, both of which were great fun. As I had missed Jack Hawkins organised trip to Normandy in June, I
took myself off over there on the bike on a solo trip in August and thoroughly enjoyed myself visiting the D-Day beaches and museums for a few days. Jack has another trip planned for June 2023, but spaces are limited so keep an eye out for details.  I think it's fair to say that we were all looking forward to going to Arnhem in 2022 as for most of us it was the first chance to go for two years. For us as a group it was a really well attended visit and I thank everyone who played a part in organising rides and helping out during the commemorations. We had a sad duty to perform on the Friday in the interment of John Jeffries ashes in Oosterbeek cemetery. Jack Hawkins did a great job at very short notice by carrying the Teesside PRA Standard, and there was a significant turnout by the Riders.  I know that John's daughter Lynn was very heartened by our support on the day. We met up with our good friends the Red Beret Riders on Saturday and rode up to the DZ to watch the jumping and on Sunday it was great to see the children wearing their 'Flower
Children' pins supplied by Charlie as they laid flowers in the cemetery.  We have many friends and strong ties in the Arnhem area and our reputation there is excellent, so long may that continue. A few people have asked about changing the format slightly in future years and I am very open to ideas or suggestions. However, please remember that the Arnhem commemorations are a Dutch event, and we are guests there, so are pretty much duty bound to go with their plan. However, if anyone wants to organise a ride or do something over there that does not conflict with the official Arnhem commemorations then that is fine. Just let us know early.
Very soon after Arnhem it was the Ride to the Wall.  For the second year we congregated at a Premier inn nearby although we will probably change the location for 2023. Starting off from Whittington Barracks with the other Military Rider groups is a good thing as it's not a mega-early start, and we can get a brew and use the facilities. It was good to see that we were the single largest group of Riders other than the RLC/RCT group, and it did'nt rain !
We are already into 2023 as I write this……yes I know, shoddy work ! However, it's not as if Ihave been sat around doing nothing over winter. Planning for the 2023 Falklands Ride of
Respect started last October and will continue – along with fundraising – until it starts in
June, and the formation of a Riders branch of the PRA has been concentrating the mind a bit
as well. I have written on this elsewhere but it's enough to say that by becoming a PRA Branch in our own right is the correct thing to do at this time for a number of reasons, and actually, is a natural step in the evolution from those 17 Riders who formed the Airborne Forces Riders in 2014 to the over 600 that we are now. Exciting days ahead! Thank you to all those who have stood up to take post in the formation of the Branch, and also to those wise heads who have unstintingly offered help and advice along the way, even if it has just been a friendly ear to bounce thoughts and ideas off. Looking forward, we will have our 10 th anniversary year in 2024 so perhaps we might need to be thinking of doing something special that year?
Thank you to everyone who have helped out in a thousand different ways over the last year.
Let's all be safe in our riding this year,